This article is written for Linux using the Ubuntu OS, the same settings are known to work for Google Chromebooks as well.
Please note, these instructions are provided as a courtesy, and CSS IT can only provide limited support for Linux.
The necessary parameters are the same regardless of your Linux flavor.
-Generate an AirBears2 Key at https://idc.berkeley.edu/mmk Please see How Do I Generate an AirBears2 Key?
-Open Network Connections. Select Wifi-Fi, Click the Add button to add a Wif-Fi connection.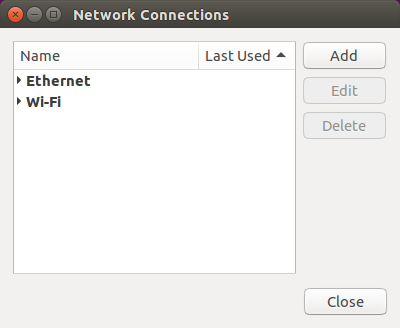 Parameters should be the following :
Security : WPA & WPA2 Enterprise
Authentication : Protected EAP (PEAP)
Anonymous Identity : (blank)
CA Certificate : (None), check the No CA Certificate is required box.
[Note, certificates are not required in order to connect to the AirBears2 network. However, one can connect more securely by downloading and using the Certificate as noted below]
PEAP version : Automatic
Inner authentication : MSCHAPv2
Username : YOURCALNETID
Password : YOURAIRBEARS2KEY
Click Save.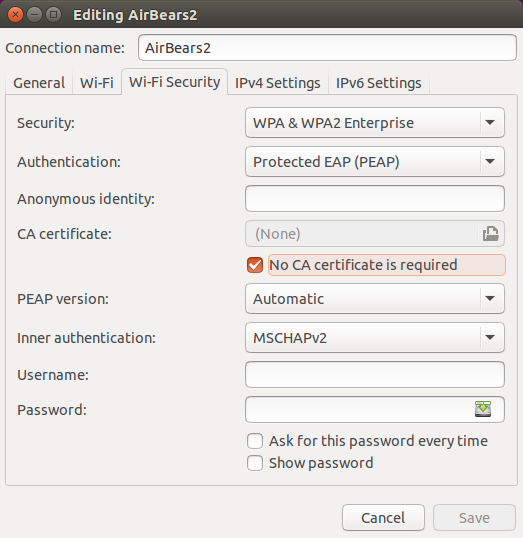 -In order to connect to the AirBears2 network using the Comodo Add Trust External CA Root certificate, download the certificate from the Comodo website https://support.comodo.com/index.php?/Default/Knowledgebase/Article/View/945/0/root-addtrust-external-ca-root
-Use the same settings as above, making sure the "No CA certificate is required" checkbox is NOT checked, and select the downloaded addtrustexternalcaroot.crt file on your computer.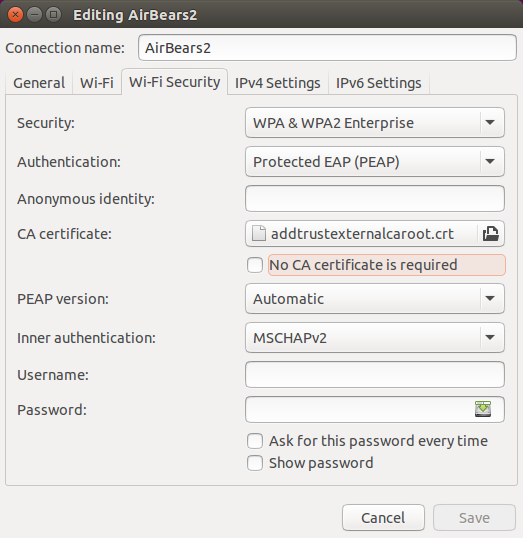 Additional Troubleshooting:
Several users have reported to CSS-IT that if "Tunneled TLS" is enabled, it can cause problems accepting the CA certificate. If you have this setting enabled, try disabling it.