This article explains how to connect to the UC Berkeley Campus eduroam WiFi network on a device running Android.
Before you Begin
Forget the Berkeley-Visitor networks from your remembered WiFi networks list




In the Wi-Fi screen described in step 3 below you can select Saved Networks and then long press on a network and choose "Forget" so the device will no longer use that network.

Create your WiFi Key



Connecting Android to eduroam
Note: Different versions of Android and software supplied by manufacturers (like Samson, Google, and Motorola) may change the look of the screens that follow, but the process is the same.
1. Open the Settings app
This can be done by finding the Settings app in the application list or by pulling your finger down from the top of the screen (you may have to do it twice to fully expand the drop down menu) and then selecting the gear icon
2. Select Network & Internet (some device will list wifi on the first screen and you can skip this step)
3. Select Wi-Fi
The device may display "Searching for networks" for a few moments before displaying the list of available wireless networks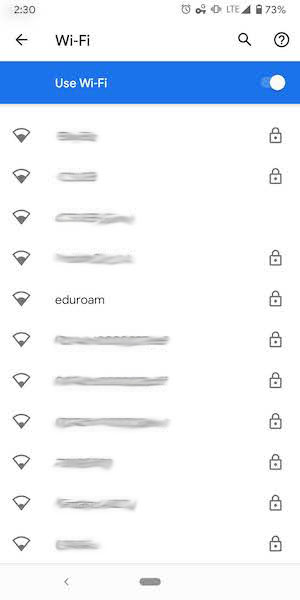 4. Select eduroam from the list to connect (depending on your location you may have to scroll through a long list to find eduroam)
5. You will be prompted to log into the network and should use the following settings
Note: Not all versions of Android will include every item on this list, you may need to select Advanced Options to see them or it may not be necessary to connect.
EAP Method: PEAP
Phase 2 Authentication: MSCHAPv2
CA Certificate:

Do Not Validate

or Use System Certificate
Online Certificate Status: Do Not Validate
Domain: berkeley.edu
Identity: your eduroam WiFi ID (example jtsmith@berkeley.edu)
Anonymous Identity: ensure this field is blank
Password: your eduroam WiFi Key
6. If you have entered the information as listed along with your correct WiFi ID and Key your device should connect to the eduroam network.
If you have issues connecting to eduroam try rebooting your device and go through these steps again. If this does not resolve connectivity please contact us for help: