This article explains how to connect to AirBears2 on a device running the latest versions of Android OS.
Before you Begin
Create your AirBears2 Key

Note that AirBears & AirBears2 coverage is only available at UC Berkeley Campus locations & in student dorms.

AirBears2 will appear in the Available Networks field if available.
Step 1: Launch the "Settings" app and navigate to "Connections"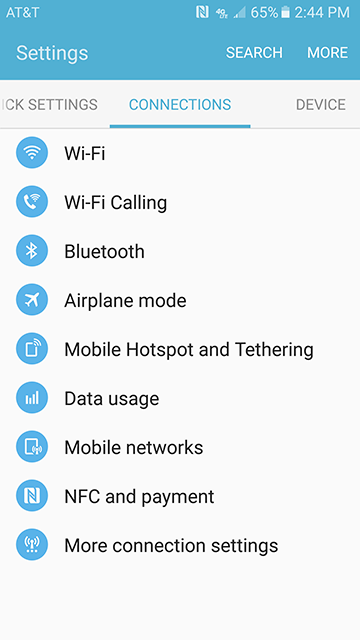 If you've tried to connect and failed, you must "Forget network" to clear the stored settings from the failed attempt.
Complete Step 1, Select Wifi then tap and hold AirBears2 and choose "Forget network".
Step 2: Select "WiFi" settings and select AirBears2 from the list of available networks.

Step 3: Make the following selections for each field:

EAP Method : PEAP
Phase 2 Authentication : MSCHAPv2
CA Certificate : Do not validate
(For older devices choose: <None>)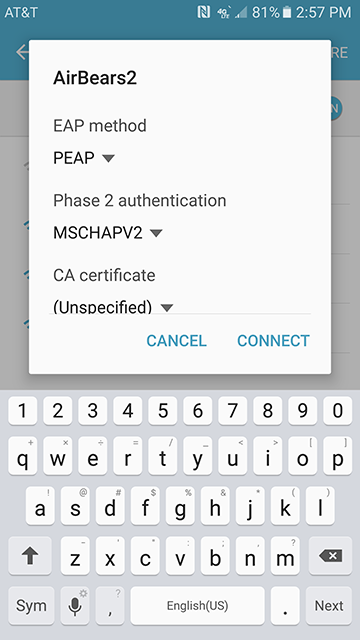 Identity : Enter your CalNet ID
Anonymous Identity : <None>
Password : Enter your AirBears2 Key (do not copy and paste, manually type it in)
Step 4: Check the "Advanced Options" box and use the following settings:

IP Settings : DHCP
Proxy : None
Key Management : FT (checked)/not available on all devices, CCKM (un-checked)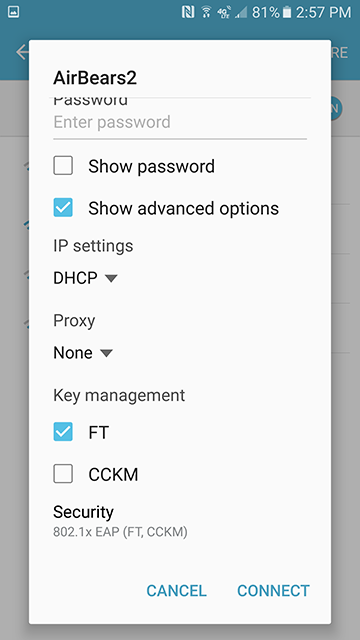 Step 5: Select "Connect" and you should successfully connect to the AirBears2 network.

For additional assistance, contact CSS IT at 510-664-9000 and follow the prompts to reach a technician from between 8 am to 5 pm, Monday through Friday. A ticket may also be submitted through http://sharedservices.berkeley.edu/it/ or by e-mailing itcsshelp@berkeley.edu