Instructors can export students' total grades in bCourses into a .csv format that can be uploaded into the E-Grades tool in CalCentral. The process for submitting grades from bCourses to CalCentral has two parts:
Downloading your grades from bCourses into an .csv file.
Uploading the .csv gradebook file into CalCentral.
---
PART A. Download Your Grades from bCourses
Step 1: GO TO YOUR GRADEBOOK
In your bCourses course site, click the Grades link on the course navigation menu.

Step 2: CLICK ON THE 'E-GRADES' BUTTON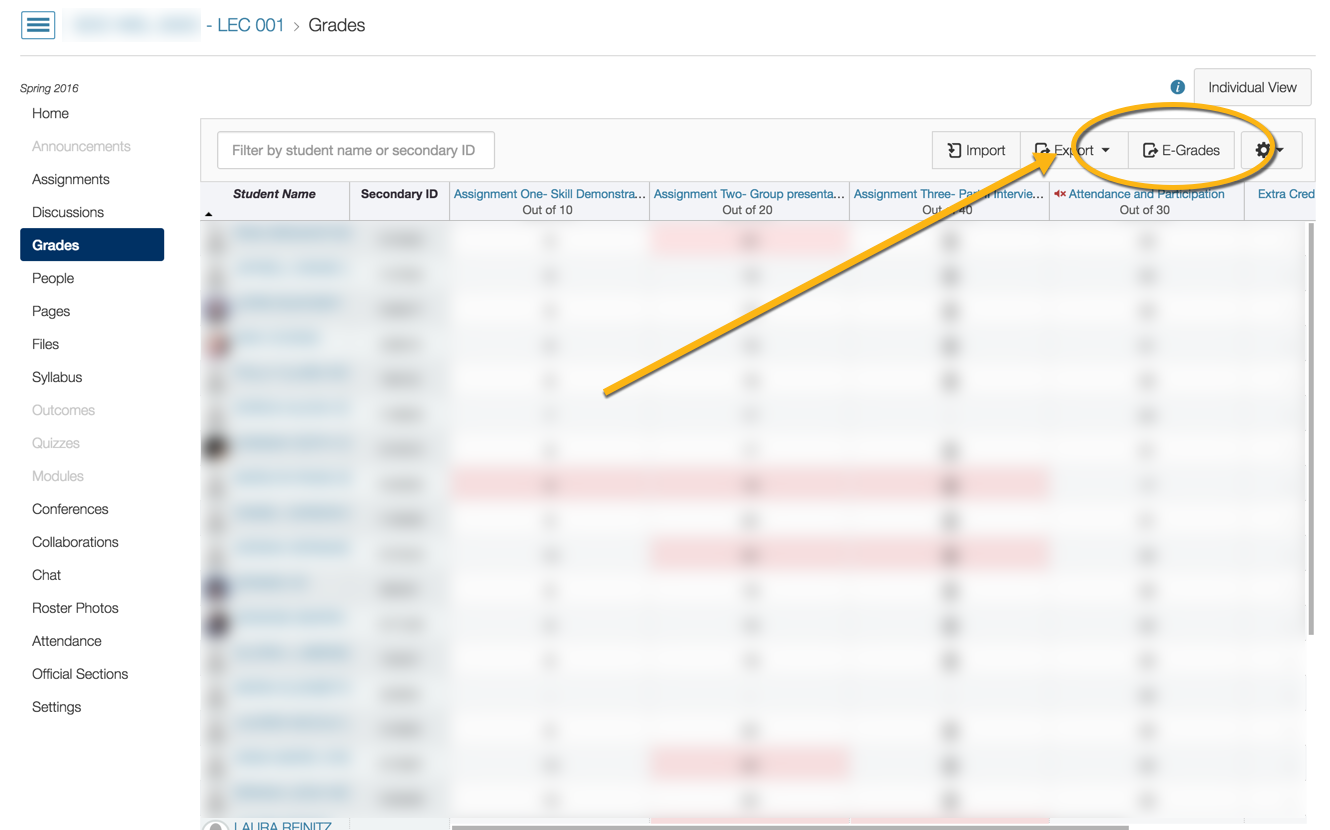 Step 3 - SET A GRADING SCHEME and/or UN-MUTE ASSIGNMENTS
(1) If you have muted assignments, you will see another alert prompting you to un-mute them. Click on "Unmute All" to unmute all assignment columns that are currently muted.
(2) A grading scheme must be set for the course before continuing with the E-Grades export. If you have not enabled one, you will be prompted to do so. You can select the option to enable the default 'Letter Grades +/-' scheme from this alert page, choose another grading scheme, or create your own.
(3) Click Continue to resume export.
Step 4: DOWNLOAD
You can download Current Grades or Final Grades.
The Current Grades download ignores unsubmitted assignments when calculating grades. Use this download when you want to excuse unsubmitted assignments;
The Final Grades download counts unsubmitted assignments as zeroes when calculating grades. Use this download when you want to include all unsubmitted assignments as part of the grade.
Once you select one of the options, you will be prompted to save the .csv file of the Gradebook to your computer.
---
PART B. Upload Your CSV File into CalCentral
Information on uploading a CSV to CalCentral can be found at: https://drive.google.com/file/d/0BwwcaljWYa0SWXVWZzJaOXE2Yjg/view. General instructions on uploading grades to CalCentral can be found under the "Quick Guides, Videos, and FAQs' heading on the Office of the Registrar's website: http://registrar.berkeley.edu/faculty-staff/grading/final-term-grades