In addition to this guide we also have a online video on how to operate a document camera.
Determining the Model of the Document Camera
ETS provides different models of document cameras (also known as ELMO, Doc Cam, or Visual Presenter). Setup is slightly different depending on the model you are using.

ELMO-P30S ELMO-P30HD
*If the document camera you are using is not listed here, please contact the Classroom Technology Support for training and support.
Set Up the Document Camera
Locate the power cord wrapped on the document camera cart and plug it in to a nearby wall outlet (see image right, power ports are marked in YELLOW.)
If the document camera is permanently installed in your classroom the power should already be connected.
Plug VGA cable from the Black Box into the VGA extension cord mounted on the cart. If the cart does not have a VGA extension cord, plug the VGA cable directly into the RGB OUT (see image right, VGA ports are marked in GREEN.)
Press and hold the power button for about 2-3 seconds to turn on the document camera.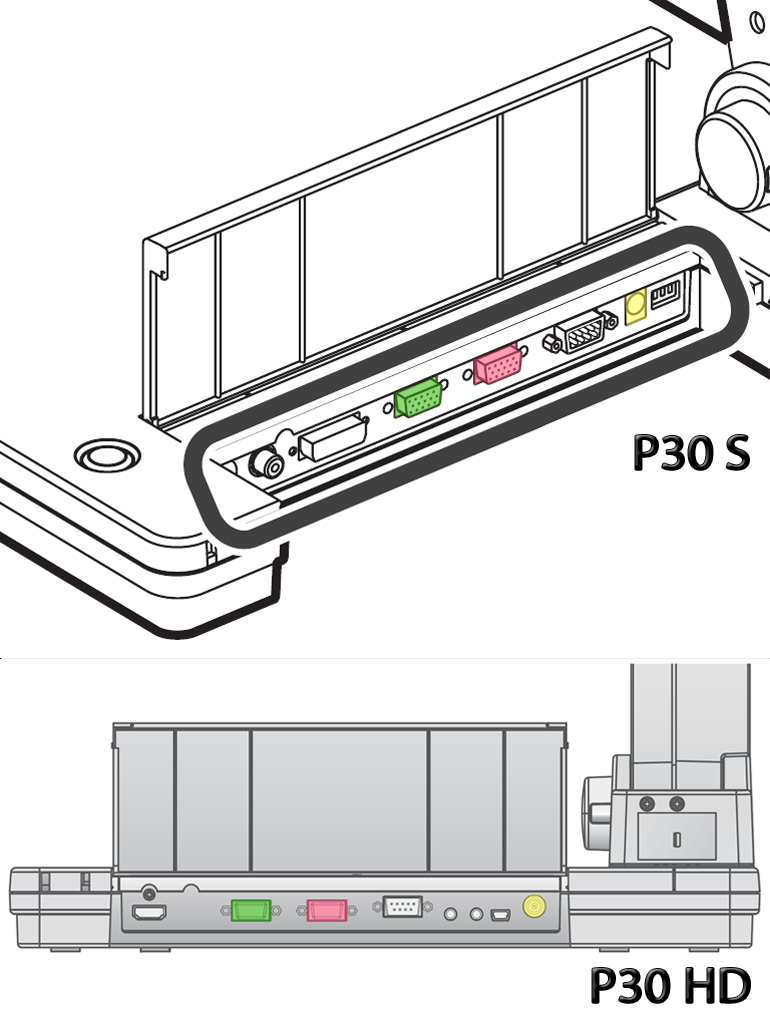 Operating the AMX Touch Panel
Touch anywhere to wake up the AMX control panel located in the Black Box.
Select the corresponding source for document camera. (ie. LAPTOP or LAPTOP/DOC CAM or VGA 1.) This action will power on the projector and set it to the correct display source.
Once the projector is warmed up you should see the document camera image.
Using the Document Camera
You can adjust the light bar and camera head as desired. The document camera can display acetate transparencies, normal piece of paper, or 3-D objects. You can also zoom in and out to show the desired level of details.
Zoom In/Out
Zoom the image in and out by rotating the zoom dial next to the camera head. Press the center of the dial to auto focus (image right, marked in BLUE.)

ELMO-doc cam-dial
Lighting Control
The light bar can be adjusted as desired, and can be turned on or off by pressing the down button on the directional pad next to the LCD screen (image right, marked in PURPLE.)

Tips for Using the Document Camera
Place a piece of white paper underneath the acetate transparencies; adjust the light bar to minimize any glare.
Use the LCD screen on the document camera as reference to adjust and verify proper placement of objects.
Make an appointment with a classroom technologist to find out about other advanced features such as using it with your laptop and recording images or video onto a SD card.
Troubleshooting Tips
If the document camera is not projecting, try selecting a different source on the touch panel then return to desired source.
If the projected image is distorted or color is not accurate, try disconnecting the VGA cable then reconnect.
Call 510-643-8637 for Classroom Technology Support.