For various reasons (including registering a device for use with the DHCP Service), you may need to find the MAC address for your device.
To find the MAC address on your Windows computer:
Click on the Start menu in the bottom-left corner of your computer. Select Run or type cmd into the search bar at the bottom of the Start menu to bring up the command prompt.
Type ipconfig /all (note the space between the g and /).
The MAC address is listed as series of 12 digits, listed as the Physical Address (00:1A:C2:7B:00:47, for example). Each network adapter (wireless, Ethernet, etc.) has a separate MAC address.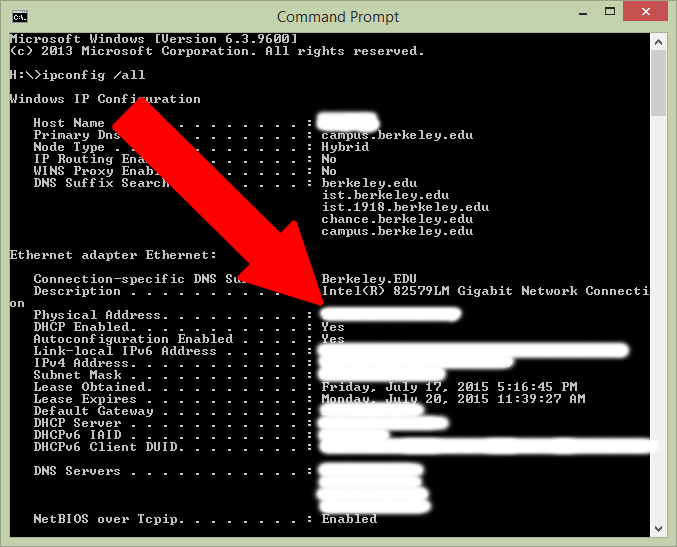 To find the MAC address on your Apple computer:
Choose System Preferences from the Apple menu.
Select Network.
Choose Airport for the wireless adapter MAC and click Advanced (the MAC address is listed as Airport ID).
Choose Built-in Ethernet and click Advanced and Ethernet (listed as Ethernet ID) for the network cable adapter MAC.
For additional assistance, contact ITCS at 510-664-9000 and follow the prompts to reach a technician from between 8 am to 5 pm, Monday through Friday. A ticket may also be submitted by e-mailing itcsshelp@berkeley.edu