Download the Mac 32/64bit client by accessing the bSecure GlobalProtect portal using your CalNet credentials: https://vpn.berkeley.edu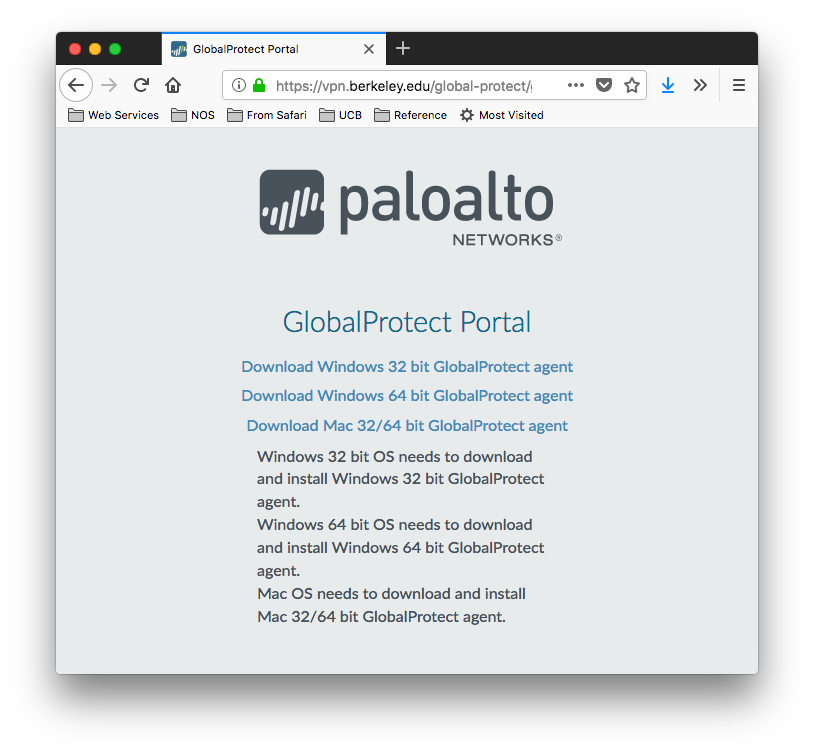 Go to where you have software download, usually the Download folder, and double click on the GlobalProtect.pkg file
MacOS X may warn you that the software has been downloaded from the Internet, and you will have to approve using the software.
You will be presented with the Welcome page and need to click Continue

You will be presented with the Custom Install page, GlobalProtect will be selected by default and you should click Continue

The installer will verify that you do in fact want to install the software, click continue

When the software is done you will see a success page and the GlobalProtect icon (a small globe) will show up in the service list at the top or your screen. Click Close to continue
You will receive a popup asking if the installer should be moved to the trash. We recommend that you Keep the software as the same installer can be used to uninstall the software.
Now select the GlobalProtect globe from the service bar at the top or your screen

Enter "vpn.berkeley.edu" (without the quotes) in the portal address field and click Connect

A popup window will appear with the standard CalNet login page, authenticate as normal to continue

The window will then briefly show that you are connected before minimizing back into the services list.

You can change which VPN connection you are using by selecting another from the pulldown. The client will remember your choice between connections unless the software is updated.
Disconnect by clicking the disconnect button.